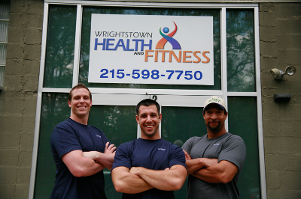 At WHF, we use cutting edge knowledge and expertise to help clients go above and beyond fitness goals!
Located just outside of Newtown, Wrightstown Health and Fitness is a premier wellness center. Utilizing a blend of services such as exercise, fitness therapy, chiropractic care, sports massage, and nutritional expertise, is what sets WHF apart from the average gym.  With the help of WHF services, clients experience:
– Weight Loss and Increased Tone
– Improved Performance & Function
– Improved Flexibility & Mobility
– Decreased Pain
They also look better and feel great!
We recently added a series of short articles about our many services, techniques and the uniqueness of Wrightstown Health and Fitness.
To view them, please visit our Learn More page.
"WHF is not just a gym. It's a place where the trainers and staff are like family and really care about your well being. I did 'The Blitz' wellness program. It is a fantastic way to jump start your way to a better you. I feel great and cannot remember the last time I was in such good shape. I will never go anywhere else. I'm hooked!" – Kelly H.